Ojai Lunch Monitor #1
Academic year 2015-16
Hello and welcome (and welcome back) to the Ojai Lunch Monitor!
A quick word of introduction: I am one of the board members of Food for Thought Ojai (aka FFTO).  I originally joined the board because FFTO's founder, Marty Fujita, was my patient (one of my other identities is as an Ojai family doctor.)  During the course of a routine visit, she found out I had a kid in first grade at Topa Topa elementary school and talked me into volunteering, somehow. At this point it is all a blur. My kid is now in 8th grade and over the years I have been involved in many aspects of FFTO's important work.
The part of our program that I am most passionate about, however, is school food. As a working mom and single parent, I DO NOT HAVE THE TIME OR INTEREST TO MAKE MY CHILD'S LUNCH. There. I said it.  Maybe it makes me a bad mom, but whatever. So my daughter has been eating Ojai Unified School District (aka OUSD) school lunch her entire life since the age of 6 and I very much appreciate all that OUSD nutrition services and FFTO have done over that period of time to make that lunch as healthful and palatable as possible.  Also, she is going to be continuing to eat OUSD school lunch until she (hopefully) graduates from Nordhoff high school and has to wrestle with feeding herself in college or wherever she ends up.
Last year, mainly because I needed to find something to do in order to weasel out of other board member duties like fundraising, I hit on the idea of eating school lunch once a month and reporting on it to the rest of the board.  Thus, the birth of the Ojai Lunch Monitor.  I will admit, as I was gaining exposure to the school lunch experience, my first few reports were a little on the snarky side.  There were the Sporks, the Styrofoam, the vagaries of temperature, the pervasive blandness. During that year however, I learned a lot, namely: 1) OUSD nutrition staff work super hard with limited resources to feed our kids, 2) in general the food served is quite healthful in terms of offering fresh fruits, veggies and whole grains, and 3) kids as a group have different taste expectations than adults (ie: me).
With that (and FFTO's newly redesigned web site!) in mind, I am launching the second year of the Ojai Lunch Monitor as a blog, devoted to sharing my experience of the OUSD school lunch in what I hope will be a collegial and constructive manner.  You can think of it as a restaurant review with the following ground rules: 1) I know we are on a budget, 2) there are government-dictated nutrition rules to be followed and 3) we are trying to appeal to children.  Having said that, my plan is to offer a first-person account of what our kids are experiencing at school and to give useful feedback that will hopefully help OUSD nutrition services and FFTO continue to move school lunch in a positive direction. So, on with the blog!
Due to unfortunate scheduling difficulties (despite being self-employed, it appears I have little control over my work schedule, not sure if anyone else has this problem) I was not able to eat school lunch at all this academic year until this past week, when I was on vacation but couldn't go anywhere since the aforementioned kid was still in school.  As a stay-cation lunch solution, eating school lunch worked out really well.  I was able to eat for 4-5$, there were no dishes to wash, and it was certainly more fun and social than eating leftovers at home with my cat.
I started out on Tuesday, December 15th at Topa Topa Elementary.  The menu item that was available when I got there at 11:30 was corn dog, (although I saw a child from the class in front of me with orange chicken.)  I was happy because I LOVE corn dogs! I usually only get them once a year when I allow myself to be dragged (again, by the aforementioned kid) to the Ventura County Fair, so this was a treat. 
Also, I was super excited to check out the NEW COMPOSTABLE TRAYS that FFTO has worked with OUSD nutrition services to roll out this year.  The new trays are impressive – SO much more pleasant to eat off than then old Styrofoam ones!  However, I learned from one of the cafeteria staff that, unfortunately, the way they arrive from the supplier, the trays are also really hard to pull apart, so the staff has to make time for an extra preparation step of pulling them apart and stacking them before the kids get there for lunch. Not sure what the ultimate fix is for that, but I still think it's worth it for the improved environmental impact as well as the aesthetic experience.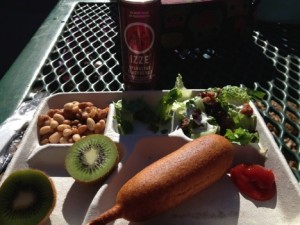 Another new thing at Topa this year are the Izze drinks. I love these! They are a little pricey at $1.50, but I think this is fine, especially since I think they charge me like $5 for one of those at Chipotle. There was also nice fresh romaine lettuce, a two bean salad and kiwis.  I serendipitously figured out that I could put some of the dried fruit (dates/craisins) that flanks the serving area on top of my romaine with the addition of some ranch dressing to make a tasty salad. The corn dog with ketchup did not disappoint and the two bean salad was subtle and pleasantly reminiscent of canned baked beans.
Now for some negativity: You will note from the photo that the kiwis were cut along the waist (ie: if you were to stand them on end and cut latitudinally along the equator, so to speak.) This made me a little crazy. I will point out that cutting them this way makes eating the kiwi an order of magnitude more difficult, especially with a spork. I really like kiwis and I eat them a lot (albeit not usually with a plastic spork) and I found it really hard to get all the meat out of them.  Also, I got kiwi juice all over my hands, which was a bit of a problem because the napkin that comes in the packet with the spork is the size and consistency of a sheet of Kleenex and not really up to the job of mopping up large amounts of kiwi juice.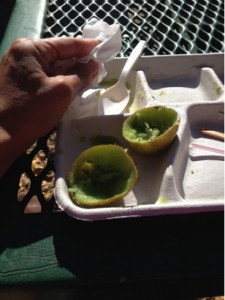 But eventually I was able to be a little more philosophic about the kiwi thing as I finished sipping my Izze drink and enjoyed the nice weather (certainly pretty amazing for the week before Christmas!) and the musical stylings of the Topa Topa beginning band playing Jingle Bells and Hot Cross Buns across from the lunch area. Really, it was a beautiful day.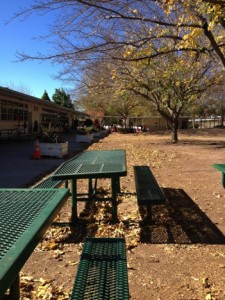 Wednesday, December 16th, was Holiday Craft Fair at Mira Monte elementary school, where my boyfriend's daughter is in 5th grade. I still recall fondly (actually, I have nightmares about it) the sock snowmen that my daughter was frantically producing prior to her participation in a similar event at Topa Topa several years ago. It was nice not to be directly involved this year: all I had to do was help load the table back into the car at the end of it, after first eating some school lunch with my boyfriend.
I had the pasta entrée, he had the chicken tenders.  The marinara sauce had some pleasantly chewy chunks in it that I later learned were tempeh-based vegetarian protein. Quite tasty! It was a little disappointing to have the Styrofoam bowl sitting on my nice compostable tray, but hey, I'm not complaining (too much, anyway).  And the cafeteria staff lady gave me a nice shaking of parmesan as I exited the line which helped to satisfy my salty tooth. The breadstick was yummy as well, especially having been dipped in the ranch dressing. No Izze's available that I could see, so I just got some milk which was fine.  Last year I had a couple run-ins with milk-with-frozen-chunks which is incredibly nasty, so I was happy to have a carton served at the correct temperature.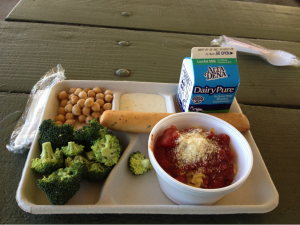 I did make a tactical error however.  As I was confronted with the choices of raw broccoli, chick peas, some other type of beans and romaine lettuce, I chose poorly.  The broccoli dipped in plenty of ranch dressing was ok (although you can see that I took WAY too much) and I managed to finish it, but I couldn't do the same with the plain chick peas. I ate about half of them, which made me feel super guilty, especially after having recently seen a movie about the global food waste problem ("Just Eat It") that FFTO screened last month.  It was then that I realized that the two bean salad that I had had at Topa the day before had been served with just enough dressing/sauce/sugar/salt/SOMETHING that it was possible to eat it by itself, but today, not so much.  Maybe if I had taken the OTHER beans…
My boyfriend, on the other hand, had been clever: he made a salad out of his chick peas and romaine lettuce with ranch dressing, and was happily chomping down on that and his chicken tenders.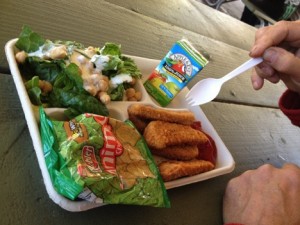 Another little irritation that I am likely to continue to dwell on in future versions of this blog is the difficulty of eating salad with a spork.  I know that the spork is a wonderful technological solution to problems of economic scarcity, waste production and is good for eating mashed potatoes from KFC, but dammit it's hard to eat salad with one of those suckers.
After cheering on the 5th graders at a rather cutthroat dodge-ball tournament and loading the table into the car, boyfriend and I shared the bag of animal crackers, which tasted like they were probably actually good for us: not very sweet and kind of fibrous.
On Thursday December 17th, I went to Meiners Oaks Elementary, which last year I learned is the central kitchen where a lot of the preparation for the district goes on.  This is where I found out about the tempeh in the marinara sauce.  Also, I was happy, nay, thrilled, to see kiwis again available, but this time cut longitudinally like I like them!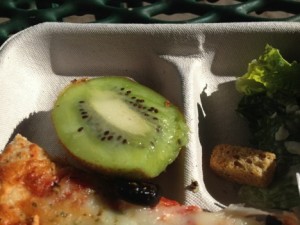 To complement my longitudinal kiwi, there were four different pizza options: cheese, pineapple, pepperoni and olive. I chose olive, and helped myself to some of the Caesar salad (premixed! No strategizing necessary!) with croutons and again a somewhat suspiciously healthful-looking cookie. This time I opted for water, although the Izze drinks were tempting.
It turned out that the pizza was delicious, with a perfectly chewy crust (which reminded me a bit of the previous day's breadstick – ?coincidence) and nice seasoning (helped along by red pepper flakes which were brought out especially for me, apparently there is some safety issue with letting the kids have them.)  I can't say enough about the Caesar salad! It was so tasty and the tomatoes were perfectly ripe and sweet – how did they do that in December!?  It was especially nice not to have to make the salad up myself. Also, it had cheese in it, which is always welcome, and the croutons were really good. Bravo! Then on to the fruit…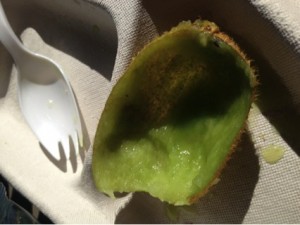 It was not the sweetest kiwi I have ever eaten, but it was fresh and firm and at least it didn't get all over my hands!
I ended the meal with one of the "cookies" (more like a cross between a granola bar and a graham cracker) in my little foil pack and gazed out past the recycle bins (that still have the picture of the dreaded styrofoam trays – boo) over the play yard at the beautiful Topa Topa bluffs and mulled over how lucky I am to live and work in Ojai.