Hello and welcome back to the Ojai School Lunch Monitor!  Since my last post, I have become aware of the existence of a valuable resource for anyone who is interested in eating lunch at the OUSD school cafeterias: the OUSD Elementary School Lunch Calendar: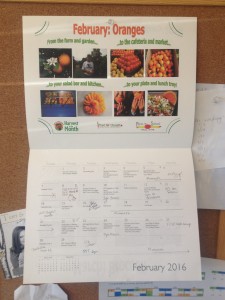 These debuted this school year and were produced by Food for Thought Ojai in conjunction with OUSD Nutrition Services and an organization down the hill called the Ventura Farm to School Collaborative. They were apparently distributed to all OUSD elementary students in Fall.  What is mind-blowing to me is that they actually know what they are serving for lunch a more than a year in advance!  I realized that I had, by sheer chance, really lucked out last month when I ate lunch on February 2nd at the Junior High instead of one of the Elementary schools: that menu item just doesn't sound appetizing…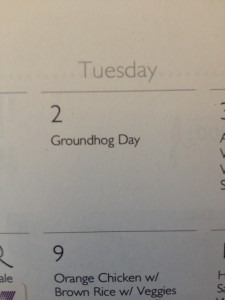 So I picked Thursday February 25th to eat lunch at Meiners Oaks Elementary. This happened to coincide with the (not-surprisingly, monthly) Harvest of the Month promotion, which I believe is covered in another blog on this website.   Things were pretty quiet at the lunch tables by the time I got there. I think some of the classes were out on a field trip somewhere. It was again, a beautiful, unseasonably warm day. The nutrition services staff greeted me warmly, and I didn't even try to explain why I was there this time.  They also tried to not make me pay, which I had to insist was absolutely not on (sheesh, bribery? really?) The calendar advertised Gold Coast Chicken Wraps Roasted Potatoes WG Mac and Cheese. After discarding other possibilities (Wavy Gravy, With GMOs) I decided WG must stand for Whole Grain. An unrelated aside: whenever I hear my home county referred to as the "Gold Coast" it reminds me of the Katy Perry song California Grls and gives me a little shiver of dismay.  In any case, over at the pass through window, I chose the chicken wrap.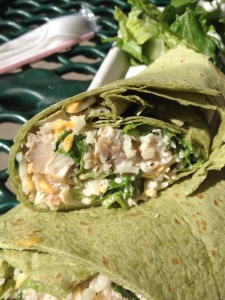 The Mac and cheese looked appropriately gooey and cheesy, but not nearly as good as the wrap. Maybe next time. I didn't see any potatoes. Over at the salad bar there was the ubiquitous romaine lettuce with ranch dressing and 3 bean salad.  There was also a big bowl of orange slices (both blood oranges and the usual orange oranges) and an intriguing mix of craisins and granola. There was also milk. I don't usual drink milk except in my coffee, so I was planning to skip the milk and get an Izze drink when the friendly nutrition services employee swooped over to check to make sure I was taking some milk. I didn't argue. Good thing too, as I headed outside and saw the handmade sign that reminded me that Big Brother (or mom, or whoever) is Watching.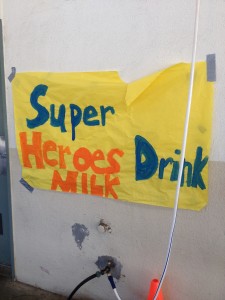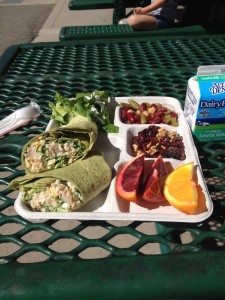 All my food selections were tasty. The chicken wrap was fresh and just the right combination of moist and crisp.  Also I didn't have to eat it with a spork which made it feel more like normal food. The oranges were sweet and the lettuce was crunchy. The 3 bean salad was just like you would get at a good deli, a nice mix of salty and tangy with the beans appropriately firm.  The craisin/granola mix was a good substitute for an oatmeal cookie: I drank my obligatory milk with it. Are people aware that you can get this for $4? There is no way that I would be able to make anything half as good for lunch for that amount of money.  Also, I believe there are some fairly hefty school lunch subsidies available for students if their parents are willing to fill out a lot of annoying paperwork that is available on the district website.  The school staff seems to have caught on.  As I was turning in my visitor badge, the lady at the front office asked for the verdict.  "Yummy chicken wraps!"  I told her. "Sounds good, I think I'll get one" she replied. Now, I know that children are picky and some younger kids won't eat a chicken wrap because it has one kind of food touching another kind of food.  But children aren't stupid:  if we give them school lunch choices that taste good they will eat them.  My lunch was both tasty and healthful that day.  I wonder how many of the kids in our district and their parents would say the same?  Shouldn't it be 100%? Until next month Helen Petroff Ojai School Lunch Monitor