Harvest of the Month for November is Persimmons, and they are featured on the snack and lunch menus at public schools throughout Ojai and Ventura County. Persimmons are high in Vitamins A and C, and are full of fiber. The fruit grows on trees native to China, India, Japan, and Burma, but they also grow here in Ventura County where they were introduced in the 1800's. Persimmons are a nostalgic part of autumn for many ranchers. The leaves turn beautiful colors and fall to the ground (deciduous) as the bright orange fruit hangs temptingly in the trees.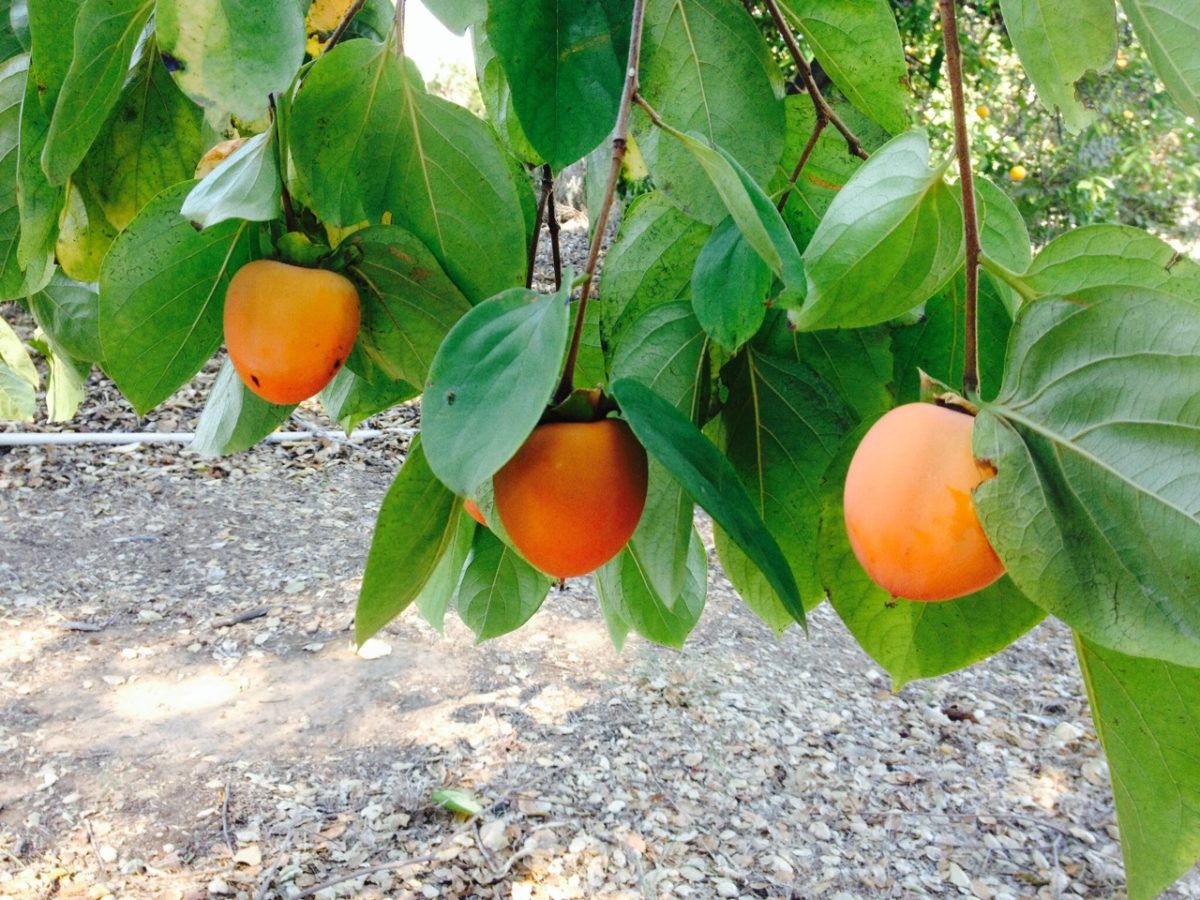 Did you know there are two basic types of persimmons? Commercially, they are referred to as non-astringent and astringent. The non-astringent types, like the Fuyu, are typically what we get for Harvest of the Month. These contain less tannins and can be eaten as-is, usually sliced and enjoyed. Fuyu can be identified by their shape which is more squatty like a tomato. Fuyu are compared to an apple in texture and bite, but the flavor is very unique. They are very beautiful arranged on cheese platters, and also go nicely in side dishes like wild rice salad, or in cobblers . One simple recipe is Fuyu persimmons chopped atop of a bed of mixed baby greens, pecans and goat cheese, drizzled with a sweet balsamic vinaigrette, delicious.
Hachiyas are the common astringent type, meaning immature fruit can be off-tasting due to the extra tannins. These type of persimmons should either be fully ripe before eating, or processed in a number of ways to remove the tannins. The fruit are typically more heart-shaped with a thicker skin and once ripe produce a gooey sweet delicacy inside. Drying persimmons is also very popular and produce a unique flavor. Drying is also a fun activity that can be done at home. Hachiyas are great for baking and good in cookies, breads, and pudding made with your favorite fall spices like cinnamon and nutmeg.
We hope you can get out and enjoy Persimmons this month. It is a short harvest, so enjoy while they are in season, or preserve them for later. They are available now around town at farm stands and farmers markets.