I ate my last Ojai school lunch of the year at Topa Topa Elementary School on Tuesday, May 24
th
. Those of you who have been reading this blog might recall that all year I have been hoping to get a burrito of some kind. Per my Ojai school lunch calendar, today was the day to get a home-made pork, cheese and green chili burrito. Yum! I got to the cafeteria at about 11:50 and lined up behind a group of students who were getting their burritos. However, when there were still about 10 kids in front of me, the entrée suddenly changed to fried chicken drumstick and mashed potatoes! What gives? I endeavored to be polite and not too pushy when I finally got to the front of the line and did my usual "remember me? I'm from Food for Thought…etc etc." But I really did want to have a burrito, so I enquired whether this actually was or was not home-made pork, cheese and green chili burrito day. Turns out it was, and another burrito was rather magically produced for my benefit. Whew. However, I learned that apparently it is not unusual for the nutrition services staff to have to substitute other items for what is originally on the menu due to the planned ingredients not arriving, or arriving in quantities too small to offer the same entrée to all students. This makes sense to me: in fact, ever since I first saw the Ojai school lunch calendar, I have been wondering about how on earth nutrition services manages to plan meals a year in advance in the first place. I know exactly nothing about the esoteric science of ordering for school cafeterias, but I suspect the problem is of the Catch-22 variety. You have to plan your menu and order your food a year in advance in order to stay on budget. Then the food fulfillment service does its best to send you what you ordered, but inevitably there will be some shortfalls and overages depending on supply, demand, goof-ups, spoilage and sheer randomness. The end result is that sometimes you go in expecting a burrito and you get a chicken leg and mashed potatoes. I guess this is one of the stubborn realities that separates school cafeterias from Zagat 5 star restaurants. Unfortunately, I believe the students and families might view this situation as a sort of bait-and-switch scam. We have all been disappointed at restaurants where we go to order the catch of the day only to be told that it is sold out and would we like fish n chips instead? On the other hand, I have never been to a restaurant where there wasn't some sort of menu, even if just scrawled hastily on a whiteboard. There has got to be a middle ground here. Maybe instead of a specific menu item that may or may not be available, there should just be a theme for the day. At our cafeteria at Ojai Hospital, we all know that every Monday is "Mexican Monday" and we can expect some type of tasty Mexican food. "Mexican Monday" is such a popular institution that when a holiday falls on a Monday and the cafeteria is not open, we also know to expect "Mexican Tuesday" to make up for it, otherwise everyone gets irritated at having missed out on the chips and salsa. Having said all this, I did, narrowly, get my burrito. I could have also had some mashed potatoes with it, but that seemed weird so I just stuck with the burrito.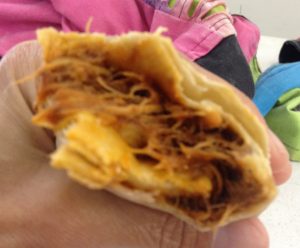 It was tasty. The pork was flavorful and a nice texture and there was enough cheese so that it was not dry or overly chewy. I didn't notice any actual intact chilis, but the sauce had a pleasantly mild spiciness. I would have enjoyed having some salsa to put on it. The rest of my meal was uninspiring. I ate the requisite romaine lettuce, which to its credit, is always fresh and crunchy. I tried the balsamic dressing this time which was ok. After I ate my lettuce, I thought I was going to be having cold, cooked carrots. Why did I assume they were cooked? I guess it must be that I have never been served raw carrots cut in rounds. Also, they had a puzzlingly fuzzy appearance.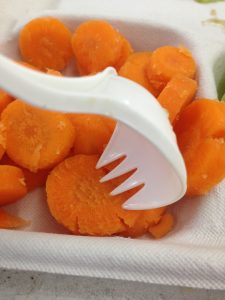 So after I discovered that they weren't actually cooked and were impervious to my attempts to spear them with my spork,  I immediately regretted not making them into a salad with my romaine and drenching the whole thing with ranch dressing. Oh well. I ate some of the carrots and most of my grapes, which were not very sweet, and downed my Izze drink.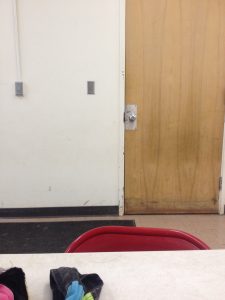 I had been eating indoors due to it being somewhat cold, cloudy and windy outside. I observed that our cafeteria needs a fresh coat of paint, hopefully in a slightly cheerier color. My understanding is that this summer our Ojai public schools will be getting some much-needed maintenance, so I'm sure things will look brighter in the Fall. In the meantime, I will be following the suggestion of the "Exit" sign, having a little break from everything school-related and heading outside…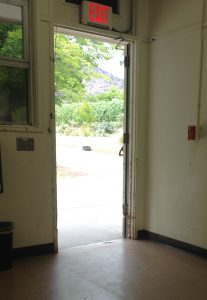 See you in September! Helen Petroff Ojai School Lunch Monitor