Hello and welcome back to School Lunch Confidential!
In the vein of "better late than never" I am reporting on a lunch I ate a couple months ago at Meiners Oaks School on May 22, 2018.  By way of explanation, I would like to point out that we have had kind of a rough year here in Ojai. The destruction from the Thomas Fire was devastating on many levels for everyone in our community.

However, when I visited Meiners Oaks in May, I was heartened by their achievement of "Green Ribbon School" status (a very prestigious California state award bestowed on schools who have met rigorous standards for

excellence in resource efficiency, health and wellness, and environmental and sustainability education) even during this very tough year.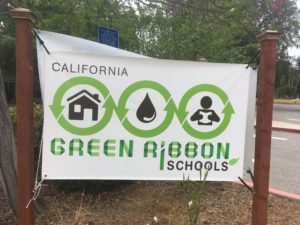 Also, the beautiful mural in front of the school reminded me of why I am so lucky to live here!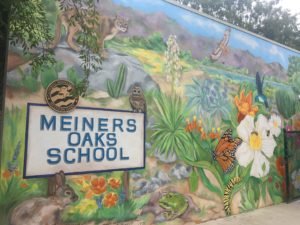 The menu for the day advertised "tacos," which I love. I was a little nonplussed when I got my tray and saw the flour tortilla. When I peeked inside, I saw and smelled some tasty roasted chopped chicken with cheese, two items that I enjoy very much.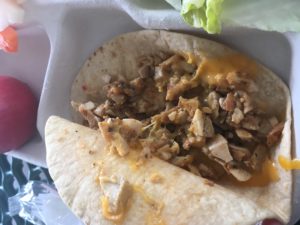 I gamely loaded some lettuce and mild salsa into the thing and tucked in.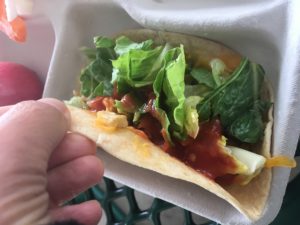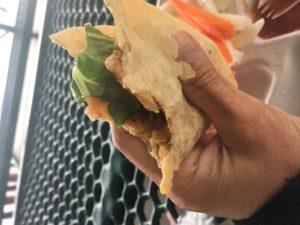 Unfortunately, the overall gustatory experience was not that great.  The individual ingredients were fine, but as I finished the last bites, it occurred to me that it would have been a lot better if I had treated it as a quesadilla rather than a taco.  This is entirely my fault, by the way. I think most astute 3rd graders would have just eaten the flour tortilla + chicken + cheese and said to themselves "yummy chicken quesadilla." My understanding is that kids love quesadillas, so I applaud OUSD providing them with same. I guess I would just request not calling them tacos. The jicama and carrot spears were crisp and tasty with the (ubiquitous) ranch dressing and the appropriately sized little apple was sweet and crunchy.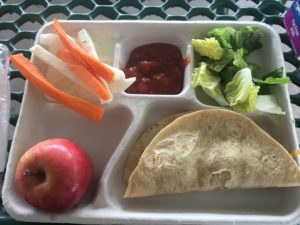 I was actually considering just blowing off blogging about this lunch entirely since I had been so untimely about my reporting. Then Jonathan Gold, the beloved food critic for the LA Times, passed away unexpectedly last week. I have been enjoying his music and food columns for 20+ years and, while I almost never go to LA anymore, I still love to read his reviews. It didn't matter that I had no intention of visiting whatever obscure San Gabriel valley Asian restaurant located in an off-the-beaten-path mini-mall he was reviewing. His writing always communicated a deep respect for what people who feed other people are trying to do. Eating food that is prepared for you by someone else is a great privilege and I hope to communicate that gratitude to the nutrition services staff at OUSD. So I figured I'd better get blogging…
Have a great rest of the summer, looking forward to back to school!
Until next time…
Off the record and uncensored,
Helen Petrof